Tired of Social Distancing? Try a Virtual Game Day!
I can't believe that it's been 10 months since we went into lockdown. I know that things have loosened up a bit since then, but the virus is still out there and most places still have social distancing ordanances in place. Also, a lot of people just don't feel comfortable putting themselves out there with others regardless of what is allowed or not.
All of this has had a huge effect on gaming and the gaming community. Many of us have continued gaming with our family or turned to solo gaming to keep the hobby alive, but what about those game night gatherings or group game days? I recently hosted a virtual game day for several of my friends and it went over extremely well so I thought that I'd share the experience with all of you for some inspiration.
Sushi Go!
We used Board Game Arena (BGA) to facilitate our game day. There are several other options out there, but BGA seemed like the best option for us. There was a good variety of games available that our group wanted to play, the interface is fairly easy to use, rules for every game were easy to access, and two of our group members already had the premium access which allowed us to freely play all of the games in the BGA catalog. Once it was decided to go with BGA, I put together a Google Sheet with all of the available games with palyer count, play time, and difficulty level. This took a little bit of time, but it was worth it in the long run as I was then able to use that list to filter down to games with the player count that I was expecting for the day and use that filtered list to create a schedule of games that we would play. In my opinion, having a Game Day schedule was the single most important piece of homework that I could have done to make our game day a success. For anyone who is interested, you can access my complete list of BGA games with player count, play time and complexity level.
How did the schedule help out so much? I'm glad that I asked! First, by scheduling games ahead of time, we did not have the down-time inherent with deciding what to play next. I tried to work in a couple of breaks throughout the schedule not because actual breaks were really that necessary, but in order to facilitate some catch-up time in case something ran long. We did end up changing a couple of things through the day, but in the end the schedule helped tremendously. Next, by scheduling the day out ahead of time, participants could choose to drop out from a session or two if they needed to and join back in later. This was great as a couple of players had things going on that they couldn't get out of so they could duck out during one game and come back for something that they wanted to play later at a specific time that was already set. One other advatage of the schedule was that I could set up a folder on my Google drive to house all of the rules for the games that were scheduled and share them with the group so that everyone could review rules prior to Game Day and be familiar with the games and reduce some of the downtime that way as well.
Not Alone
The next thing that we decided to do in our planning was to run a live Facebook Video Chat for the duration of the day. As with the schedule, people had the flexibility to come and go from the chat as they wanted to throughout the day. This was a great addition as we could all play and chat together almost like we were at the table together without typing or having to set up a new chat in each game room.
As I mentioned earlier, we did end up having a couple of variations in the schedule after we got started. As it happened, the player that I had specifically selected Troyes for had to duck out during that particular session. He is the heaviest gamer in the group and I wanted to make sure that we had something available for his particular tastes rather than the mostly lighter fare that we had selected. When he found out that he had to run an errand, the rest of the group thought that maybe we should try something else since we were all a little unsure of how the game actually played, so we substituted a game of Dice Forge and a game of Tobago (which one player was able to add their son into to get him involved as well.) Those games ran a little longer than the sheduled time for Troyes so we adjusted our lunch and ended the day about 45 minutes later than originally scheduled.
Dice Forge & Tobago
All in all, it was a great day! Not to pat myself on the back too much, but with the organization that I did ahead of time, the day went really smoothly and we had a lot of fun. We got a lot of games in and the interaction was way better than just playing board games online. If you want a game day that's fun and interactive it just takes a little extra planning and your day can be a success too!
K2
Dragon Castle
Welcome To...
If you enjoyed this content, please consider joining our Facebook page, community Facebook group, following us on Twitter, or, by joining our newsletter.
Stefan Yates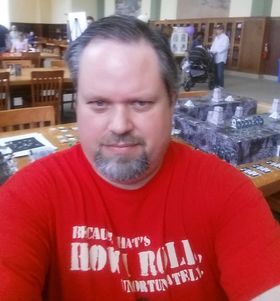 Stefan Yates is a professional in the Office of Diversity and Inclusion at Kansas State University. Finding ways to work gaming into work, he serves on the university's Alternate Reality Game Committee and is a co-Faculty Advisor for the Board Game Club. He is also a PhD student whose field of research is Gamification in Student Programming. He enjoys playing (and mostly losing) almost any type of game and likes to work in multiple game sessions per week whenever possible. An avid solo gamer with an additional interest in tabletop miniatures games, the stay-at-home orders of the pandemic were not particularly concerning as there was always painting to do and terrain to build. Stefan is also a book and movie collector and a huge football fan (go CHIEFS!)