Pingyao: First Chinese Banks
Designer: Wu Shuang
Artist: N/A
Publisher: Jing Studio
Year Published: 2017
No. of Players: 1-4
Ages: 10+
Playing Time: 60-90 min
Main mechanic / Theme: Pick-up and Deliver, Worker Placement (w/ dice workers) / Banking & Finance
This game, previously published in Chinese, is available now for the first time in English on Kickstarter! Check out the campaign now!
Find more info on BoardGameGeek.com / Kickstarter
Overview:
Pingyao is a city destined to be traveled to, filled with people destined to travel.
During the Qing Dynasty, a time before coal powered travel, citizens of Pingyao relied primarily on camels to cross through deserts, wilderness, plains and cities to trade wealth and goods. The nation was divided, unable to operate an efficient economy. A national agency of bankers was established as a means to connect all of China. With a network of banking created, wealth began to accumulate, and Pingyao city became the financial heart of China.
Pingyao: First Chinese Banks is an economic dice-as-workers placement game in which players assume the role of famous Jin Merchants in the Qing Dynasty. During the blossoming age of banking, players will expand from Pingyao city to open agencies across China, offering remittance services to businessmen in order to earn profits. The goal of the game is to build up money over 8 rounds, and be the wealthiest player by the end.
Throughout the game, players will be required to recruit reliable managers to oversee their agencies, which can grant powerful abilities. With cash in hand, players may deposit their earrings to gain interest, or offer loans in exchange for government favors and fame. The player that earns the most profit and fame will win the game. Pingyao: First Chinese Banks also includes a Solo Mode, in which the player will be challenged by a series of quests.
—description from the publisher
Gameplay and mechanics:
The main play on your turn is in rolling and placing the dice. You can manipulate your dice by spending money or possibly using an ability granted by one of your agencies. Agencies are purchased by ? and either provide you with more capital, allow you to manipulate your dice, or give you ways to earn more victory points at endgame. You can take out loans to gain more ingots to spend on acquiring agencies or you can loan ingots to gain more money to use to accomplish your various objectives. Throughout the game there is a satisfying push and pull to where you want to make investments or take out loans in order to position yourself the best and this is really the core of the game regardless of what's really going on with your dice placements. This is a game about the ebb and flow of finances and how to exploit that ebb and flow in order to advance in wealth and fame…and it's really pretty fun. There is also a solo mode that gives you certain challenges to achieve over the course of the game's 8 rounds.
Theme, Artwork and Illustration, Graphic Design and Layout (optional)
I received a Chinese copy of the game and do not know if there will be any changes with the English edition, but from what I have, the art and components are fantastic. The cardboard tokens in the game are thick and have a quality finish, nice metal coins in two colors to differentiate value, the silver ingots are really cool and the graphic design and board art are beautifully rendered. Even the multi-layered insert is pretty well done and I love how there is a lid to keep things in their place that even serves as a tray for the game and player boards. This is a very well done production and overall it feels very high-end.
What worked:
Make no mistake, this game is about banking pure and simple. You will be making/taking loans, financing agencies and striving to make the most money. Normally, this would seem pretty dry, but the designers of Pingyao have found a way to make it work and make it fun. The dice-worker placement aspect is a great way to help facilitate keeping the interest level up because, as there are almost always things that you can do with any die roll, your placement is dependent first upon what you actually roll on your dice BUT you also have ways to mitigate the luck on your rolls and adjust those numbers to what you really need. It's a really fast-paced Euro with a lot of decisions that can be made, but I didn't feel like it had a lot of the analysis paralysis that can occur in these types of games. For a medium-heavy Euro, I felt like the concepts were fairly easy to grasp and I wasn't floundering at all in making decisions of what to do at any certain point.
Final thoughts:
Overall, I really liked this game. As I mentioned before, this game has a lot going for it. There are decisions to be made throughout that feel satisfying and weighty, yet don't cause a lot of analysis paralysis to make. At its core, the game is rolling your dice and placing them in different spots on the board, but it's how you manipulate those dice, when you loan out your ingots or take a loan in order to get a new agency and how you read the flow of the money that really make the game shine. Combine that with a really top-notch presentation and this one is definitely a keeper. There is also an expansion that has its own game and player boards that I haven't had a chance to break out that gives you all new choices and challenges. This is the type of expansion that keeps the main essence of the game but gives you a whole new realm of things to do without extending the playtime. You simple use the included boards instead of those that are in the base game and have a new set of things to do. Brilliant! Check out Pingyao on Kickstarter today!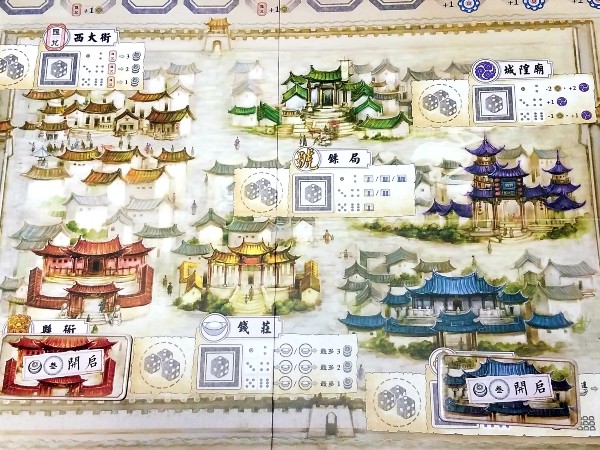 Stefan Yates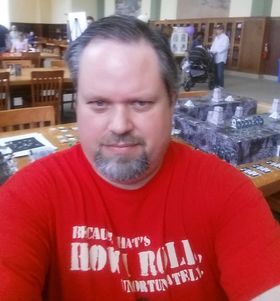 Stefan Yates is a professional in the Office of Diversity and Inclusion at Kansas State University. Finding ways to work gaming into work, he serves on the university's Alternate Reality Game Committee and is a co-Faculty Advisor for the Board Game Club. He is also a PhD student whose field of research is Gamification in Student Programming. He enjoys playing (and mostly losing) almost any type of game and likes to work in multiple game sessions per week whenever possible. An avid solo gamer with an additional interest in tabletop miniatures games, the stay-at-home orders of the pandemic were not particularly concerning as there was always painting to do and terrain to build. Stefan is also a book and movie collector and a huge football fan (go CHIEFS!)