Crowdfunding Together
May 2021
Crowdfunding Together takes a look at different projects that our authors have deemed interesting or that need a second look for various reasons. Each author will take a look at some of the crowdfunding projects that they've found to highlight and bring to our reader's attention.
Pilfering Pandas
by Jen Ford
Creator's name: Wren Games
Funding Goal: £6,000
Running From: May 19th - June 16th
Current Funding Level: £6,866
Type of Project: Boardgame

Click HERE to see the Pilfering Pandas Kickstart!
Pilfering Pandas is a compact set colleting game based on a classic card game brought to you by the independent company that successfully launched Assembly and Sensor Ghosts. For backer reassurance, Wren games has a proven track record with Assembly going to retail and Pilfering Pandas having already funded so you can be pretty confident that you'll be able to help these pandas escape. This game has brilliantly eye catching artwork which was a massive draw in the lead up to the launch of the campaign. It also has multiple game play modes which gives this puzzle game greater replayability. A female led and female heavy team, Pilfering Pandas is well worth a look.
I C E
by Stefan Yates
Creator's name: This Way!
Funding Goal: €45,000
Ran From: May 4 - May 31
Total Funding: €277,886
Type of Project: Boardgame
More information at BoardGameGeek.com and Kickstarter
I C E is a science fiction polar exploration game in which players take on the roles of archeologists searching under the ice in the Valley of the Ancient Ones for artifacts. The main game mechanics revolve around action points and worker placement but the main draw for this game is the outstanding, slightly abstract artwork featuring a variety of diverse characters and the unique, modular game board in which players are removing layers of the ice and working their way deeper and deeper into the board itself. Unfortunately, there is not any late pledge available, but this is definitely one to keep an eye on for future release to retail or a second run Kickstarter.
Mosaic: A Story of Civilization
by Bob Nolan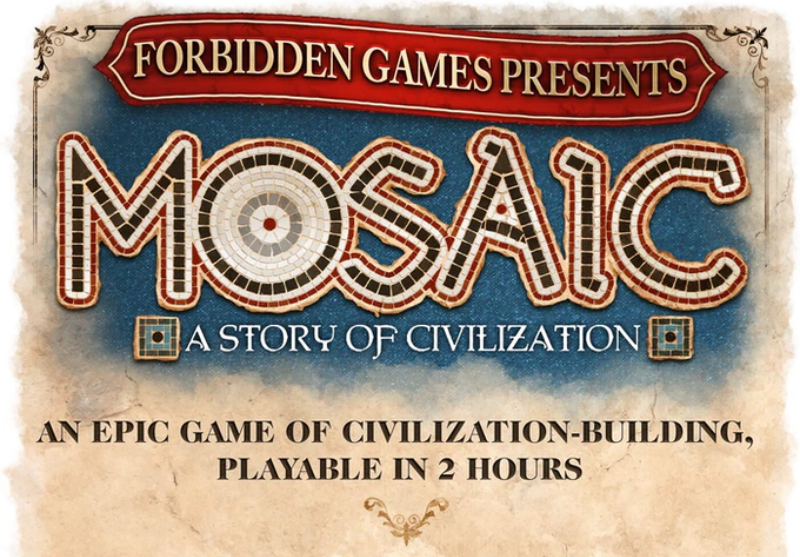 Creator's name: Forbidden Games
Funding Goal: $100,000
Duration: 2021/05/10 - 2021/06/09 (29 days)
Current funding level: Funded
Type of project: Action selection boardgame
Click HERE to view the project on Kickstarter and HERE to view on BGG
Mosaic: A Story of Civilization is a civ builder with technology, wonders, cities, leaders and more- everything you'd expect when building your civilization. Mosaic is set in the Mediterranean, so, the game must do something different to take on the traditional scope of the ancient world.
Players will choose one of eight actions on their turn to lead their civilization to greatness. Scoring happens when specific civ scoring cards are drawn from four different decks (technology, build, taxes & tarifs, and population). The game included inclusive illustrations which is a must in today's board game market and is designed by Glenn Drover.