Crowdfunding Together
April 2021
Crowdfunding Together takes a look at different projects that our authors have deemed interesting or that need a second look for various reasons. Each author will take a look at some of the crowdfunding projects that they've found to highlight and bring to our reader's attention.
Canvas 2nd Printing and Expansion
By George Jaros
Creator's Name: Road to Infamy
Number of Previous Projects: 7
Fulfillment of Previous Projects: Yes
Funding Goal: $50,000
Duration: April 13th to May 11th 2021
Current Funding Level: $521,821
Type of Project: Boardgame
Click HERE to view the project


A lot of games nowadays have beautiful artwork. There are also quite a few games that are about art. However there are very few games in which you actually create a work of art while playing. Last year Road to Infamy ran a wildly successful Kickstarter for Canvas, a game all about creating gorgeous works of art from layers of transparent cards. As the game progresses you layer elements together to create stunning works of art. The game is more than just creating works of art though. It's a strategic puzzle game where you'll be competing against other artists to combine elements, meet goals, and score points for your artwork. This year the team is back with Canvas: Reflections, an expansion to Canvas that adds millions of additional combinations with double-sided, reversible cards that you can use in your masterpieces! What's more, both Canvas and Canvas: Reflections come in special boxes with gorgeous artwork that can actually be hung on your wall! No taking up room on your game shelves! This campaign gives you the opportunity to get both the expansion and the base game if you don't already have it. The deluxe versions (which include extra cards, wooden tokens, and more) are also available in this campaign and won't be available in retail. So, what are you waiting for? Head on over and back one of the most beautiful games ever to hit the game table!
Steve Jackson Games Buttons
By Bob Nolan
Creator's name: Steve Jackson Games
Funding Goal: $1,500
Duration: April 28th, 2021 to May 6th
Current funding level: $5,519
Type of project: Accessory
Click HERE to view the project
Steve Jackson Games is known for some classics like Car Wars and Ogre, but also their continuously growing line of Munchkin Games. They are currently funding a project for buttons of their most famous game logos, characters, and icons. If you're looking for a way to spice up your backpack, strap to your bag, or jacket, then you should take a look at this project. Add a bit of whimsy and character to your ensemble with SJGames button Kickstarter. The price is minimal and it allows you to add character and interest to anything you can stick a button on. Stick a pin in it!
Florence
By Jacqueline Atkins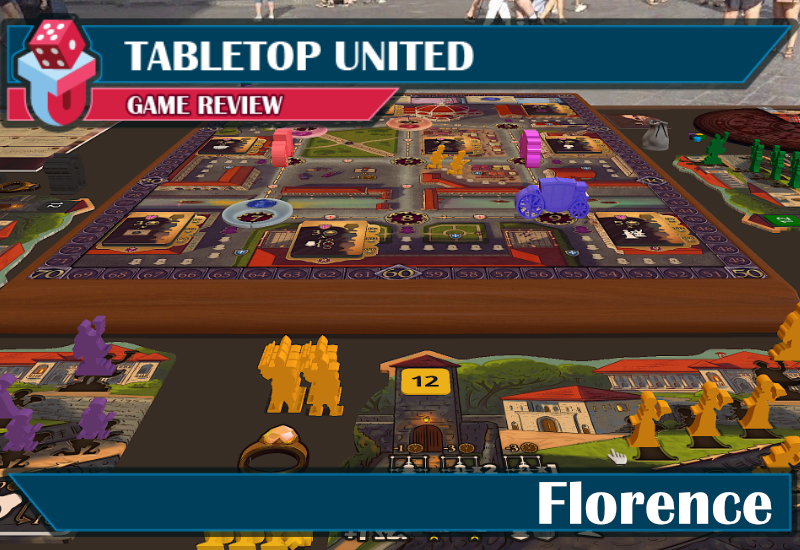 Creator's name: Lewis Shaw
Funding Goal: $34,750
Duration: April 21, 2021 to Thursday May 20, 2021 at 1pm EDT
Current funding level: $62,598
Type of project: Board Game
Click HERE to view the project
The final game in the trilogy of Mediterranean Euro games, Florence is an area control, worker placement game where players seek to woo over the noble Medici family, in hopes of gaining their favor. This beautiful game is about 1 week into its campaign and has already raised half of the funds its predecessor, Venice, raised. Several stretch goals have already been unlocked including organizer boxes to help aid in quickly getting up the game, component upgrades including UV finish and linen cards. Next up are goals to allow for screen printing on score trackers and the Maestros meeples. Even with no upgrades, Florence already looks amazing, so if the campaign ended today, your final product would still be stellar.
Florence only has one game tier available for backers, so no need to decide whether you prefer basic or deluxe. Every backer gets the core game and all unlocked Kickstarter exclusive content for $63. Florence will be available in 8 different languages. There are also a few upgrades available for Florence including metal coins, thematic card sleeves (which are super adorable and we recommend them if you are going to sleeve your cards), and metal ring upgrades. All upgrades are priced reasonably and can be purchased independent of each other. If you have missed out on the previous two games in the trilogy, you can also back a special tier that includes all three games for $167. This tier also includes the Kickstarter exclusive content for Venice and Ragusa. Retailer pledges are also available.
Florence is expected to be delivered to backers in January of 2022.